If you're looking to move your business or organization to the cloud, the first thing you should do is evaluate your current infrastructure and determine what can be moved to the cloud and what needs to remain on-premises. This will help you identify any potential challenges or roadblocks and allow you to create a plan to overcome them.
Once you have a good understanding of your current infrastructure, the next step is to decide which cloud provider you want to use. There are many options available, including AWS, Microsoft Azure, and Google Cloud Platform, each with its own strengths and weaknesses. Take the time to research and compare the different options to find the one that best fits your needs.
Once you've selected a cloud provider, the next step is to create a detailed migration plan. This should include a timeline for each step of the process, as well as a list of any necessary resources, such as tools, hardware, or personnel. The plan should also include contingencies for potential challenges or setbacks.
Finally, it's important to regularly monitor and review the progress of your migration to ensure that it stays on track and that everything is working as expected. This may involve conducting regular testing, updating your plan as needed, and working with your cloud provider to resolve any issues that arise.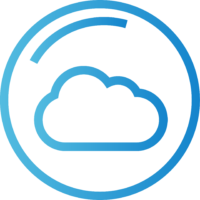 How can CtiPath Help?
CtiPath can provide valuable support and expertise to help you migrate to the cloud successfully and with minimal disruption to your business. Here are a few examples of how CtiPath can help you migrate to the cloud:
Assessing the readiness of the company's existing infrastructure and applications for cloud migration: An MSP can assess the company's existing infrastructure and applications to determine which ones are suitable for cloud migration and which ones may need modification or re-architecting.
Planning and executing the migration: CtiPath can help your company plan and execute the migration of your infrastructure and applications to the cloud, including determining the most appropriate cloud platform and designing the architecture of the migrated environment.
Providing ongoing support and maintenance: Once the migration is complete, we can provide ongoing support and maintenance to ensure the smooth operation of your company's cloud-based environment.
Offering additional cloud-based services: CtiPath offers a range of additional cloud-based services, such as backup and disaster recovery, security, and monitoring, which can help your company optimize and secure its cloud-based environment.
Providing expertise and guidance: We have experience working with a wide range of technologies and can provide valuable expertise and guidance to help your company navigate the complexities of cloud migration.
Read what our customers say about CtiPath:
CtiPath consistently performs above expectations. Their personalized service sets them apart from other vendors. I couldn't imagine operating without CtiPath.
CtiPath has provided innovative solutions to meet our business needs. CtiPath's staff is courteous and professional when interacting with our personnel.
I am almost certain that without CtiPath's expertise, our projects would have proved far more difficult to achieve. As a result, CtiPath has been the go-to vendor for us.
CtiPath's team feels more like an extension of our staff rather than entirely different company. So my comfortability level with CtiPath is very high.
Once again A BIG THANK YOU! CtiPath really came through for us.
Thanks to CtiPath for their focus on our issue! This functionality is major step forward in us realizing our new workflow models.
CtiPath made sure we were comfortable with the program and configured the system to our unique needs. CtiPath made the transfer seamless for both us and our customers.
Contact us today for a free consultation about your cloud migration needs!